Silver mirrors are always a handsome addition to your home decor. We have a range of different ones to choose from. No matter what style and size you're looking for, you can find it here. Take a look below. What kind of silver mirror will catch your eye? Maybe an oval one? Or an oblong? One with a retro-inspired frame? Only you will know.
Colour of the mirror glass
Decorate with style – Buy a silver mirror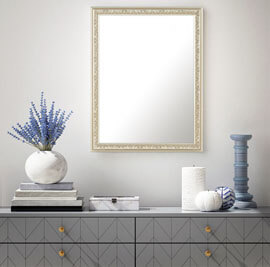 Most people are either like gold or silver, and on occasion we like both. When it comes jewellery we often stick to one precious metal, but for home decor, such as silver mirrors, the situation may be a little different.
Do you like silver mirrors and want to continue with that? That is a great choice! Or, are you someone who generally decorates with a variety of mirrors other than silver? Then now may be the right occasion to buy a silver mirror here from us and perhaps be surprised with how it can lift your home!
Dare to mix
Silver is always beautiful, whether we talk about mirrors or picture frames. It is also true that mixing different coloured picture frames and mirrors makes for an interesting look. Moreover, you should try to be bold and mix a variety of interior ornaments and to add refreshed life to your home that way.
Maybe you have different interior styles in different rooms? Perfect! Then you can choose different styles and details and make your decor extra exciting and dynamic! Why not add a nice silver mirror to the picture wall, for example? Or placing a silver mirror in an otherwise quite dark room with lots of black ornaments? You can achieve so much with interior design if you just dare to think outside the box!
We have silver mirrors for all styles
Our silver mirrors come in many different styles, meaning it is possible for everyone who likes silver, regardless of their preferred interior design style, to find a perfect mirror in our assortment. Why not buy a few different of mirrors now that you are in our shop? You can either hang them in the same room, or why not create a mirror wall of several different large sized silver mirrors. Or scatter them around here and there in your home.
Mirrors are not only for checking out one's looks. They are a very effective decorative detail for any room. You can, for example, create the impression of a much larger space in a small room. And there are heaps of other cool reflective effects you can create with silver mirrors or with other types of mirrors for that matter.
We promise you one thing: In our assortment will find stunning mirrors that you absolutely want for your home. We are professionals when it comes to silver mirrors and other mirrors too!