Picture shelf / Picture rail
(46)
Do you think it's hard to find the perfect place for your pictures? Get a picture shelf, so that you can easily change the position of your pictures, if you get tired of their placement.

Our picture shelves, or picture rails, come in white, black and wood-colours. Choose between a large variety of lengths between 50 and 150 cm.

Feel free to be a little daring when you choose pictures for the picture shelf, for example through choosing pictures in different sizes.
Easily change the impression of a wall with a picture shelf
Here you will find our stylish picture shelves and picture ledges in colours that work with almost everything. How about a white picture shelf on a white wall, a black one for a black wall or one in silver to match with picture frames, candlesticks and other interior design details in silver? Apart from plain simplistic designs, you'll also find those in wave-shapes and others with lovely quotes.
Who ever came up with the picture shelf idea really had an eye for nice, simple things. The best thing with the picture shelf is that you don't have to use tools or make new marks in the walls every time you decide to move a picture or an ornament. In an instant, you change the look of the wall by rearrange or changing the colours of prints and picture frames! A tip is to let the shelf or ledge blend in with the colour of the wall for a nice and slightly floating impression.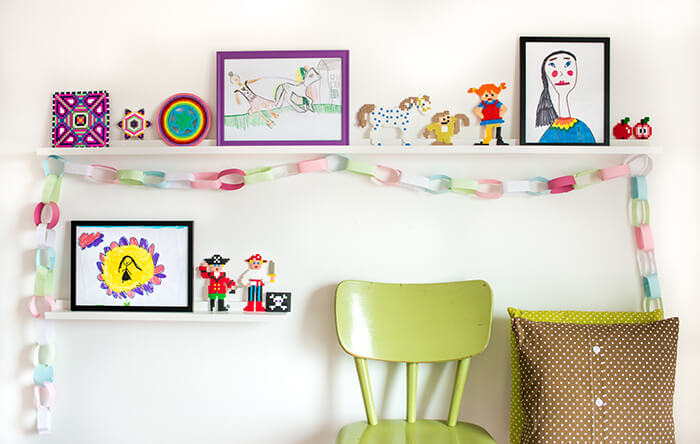 In this children's room, we have chosen white picture ledges on a white wall and thereby allowed the paintings, beads picture and garlands to add the colours to the room.
Which size picture shelf should you choose?
Generally speaking, if your wall is narrow, it looks really nice with a few shorter picture ledges placed on top of each other. If you have a wide wall and you want picture shelves across the whole wall, you can either run one single long shelf across the wall, or place several picture shelves after each other to create an impression of extra width in the room. Decide if you want one shelf/ledge or several. Or do what we have done in the picture and place a shorter ledge under a longer one. Create balance by placing something in the empty space. As you can see in the picture, we have put a chair there and added some pillows.
To mount picture ledges
Always make sure to use the right screws and expanders for your wall. That way you can feel confident the shelf is firmly fixed to the wall and will not crash to the floor. Is it a plasterboard wall or a concrete wall? Is it made of single or double plasterboards? When you know everything you need to know and have the tools handy, you then measure where you want your shelf to be placed. Use a spirit level. If your otherwise straight picture shelf is not in a straight line, it will show, so take our advice and do use a spirit level!
If you have chosen a picture ledge made of wood, you can easily hide the screws by choosing screws with countersunk heads. If, on the other hand, the shelf is thin and made of metal, the screws will more or less be visible. If so, it's best to match the colour of the screw to the colour as the shelf. Another important thing to keep in mind when it comes to metal picture shelves is that the screws must cover the holes sufficiently, otherwise the shelf may not be stable enough.
Not only for pictures
You may be excused for assuming that a picture shelf is for pictures only. And sure, that's the original idea. But a picture shelf can be used for so much more.
In the image, we have used bead picture art and garlands - suitable for a children's room where it's allowed to be both childish and playful. If your picture shelf is placed in your own bedroom, or perhaps in the living room, I guess you want to keep the design a little stricter.
You can preferably use a picture shelf for books - perhaps your favourite cook book or an art book. The key here is that the front cover of the book is appealing and interesting and worthy of being displayed.
Or why not place small tea lights on the shelf. NOTE! Make sure there is nothing directly above the shelf or any other objects nearby that could catch fire. Candle lights are great ambience boosters, but safety first.
Small flower arrangements also looks great on a picture shelf. If you are concerned you might forget to water the flowers, why not get some small artificial or dried flowers instead?