Are you looking for an aesthetic solution for hanging up your posters? If so, maybe one of our poster hangers or poster rails is what's needed?

Gone is the time when we used to sloppily stick up our posters with a bit of tape or Blu Tack in every corner. The modern solution is significantly smoother and more attractive, and your posters will blend nicely inside your home.

With us, you can find poster hangers in different colours and widths.
Buy a beautiful poster hanger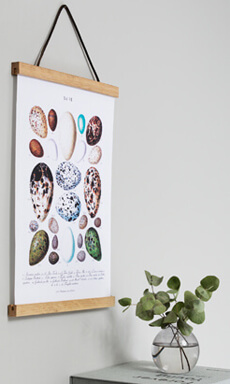 Posters can be mounted in many different ways. You can, for example, just hand them on the wall the way they are, or you can mount them using poster hangers or they can be framed in different types of picture frames. Anything can look nice as long as you choose a poster hanger or picture frame that matches the image well.
We sell both posters, picture frames and poster hangers for poster mounting, so we are pretty confident that you quickly will find exactly what you are after here in our range! A tip is to always choose what looks best for each individual print or poster. Some motifs are better in frames while others look good without. That's just the way it is and it will be quite evident once you have received your products.
Different kinds of poster hangers
We always make sure to have a variety of products in our range to ensure everyone can find exactly what they like best for their home environment. We know that our customers like different styles which is why we have such a wide range of styles, colours and sizes in our range.
No matter if you are after a poster hanger in white, black, or some other colour, you will find it in our shop. Be aware that different posters look good with different types of poster hangers. In other words, to have a number of different poster hangers mounted on the one and same wall can actually be a really great choice.
Rather than just playing safe, you should make sure that you select the right poster hanger for each poster. It actually makes a big difference to the poster. So, our advice is that you choose carefully instead of just rushing through it. We often assume that the image or motif is the most important aspect, but we would argue that it is the complete picture that matters and that choosing the right picture frame or poster hanger is equally important!
Be bold and add lots of posters to your home!
It's hardly a surprise that we at BGA Nordic love posters, right?! We're selling posters so it's pretty obvious that we love them! It's also obvious that we like both poster hangers and picture frames. It wouldn't be much fun to sell things we don't like!
We know that most people like posters. That's why it is so pleasing to be able to present such a large selection of poster hangers, posters and much, much more. To get a visual impression of how a poster looks in a poster hanger or picture frame, simply click on a poster hanger here in our store. Most of the hangers are then displayed with a poster mounted. Smart, don't you agree?
Many different posters and poster hangers create a dynamic impression
Not only does it add a lot of life to have many posters and pictures mounted on a wall, it's also great to have different types of patterns, colours, styles and more placed next to each other. This creates a dynamic impression on the wall which is exactly the way it should be with art!
Sometimes we delay when we know we need to decorate our walls. It's hard to get started when we know we need to remove what's already there and then start fresh. We hope you feel a little more inspired after looking through our assortment. There is so much there to be excited about!
Great products, amazing prices!
There is one thing we can promise you and that is that you will find great products at amazing prices here in our store. It is always a lot more fun to buy things when you don't have to lose an arm and a leg in the process.
With our affordable products it's really quite easy to find many great poster hangers which is exactly what you were hoping for, right? It is so much more fun to create a picture wall, for example, if you can buy many of what you need at one and the same time!
Trendy or classic – the choice is yours!
Our poster holders come in both trendy styles and more classic looks. The choice is yours. If you want to change the style you have at home a little, then the best approach is to start small and add a few new small interior details at home. That way, you introduce something new and fresh without breaking your budget.
It's not always that easy to know exactly what we want and what will look good in our homes That's why we think you should start with a few simple changes. You may think you will like the most trendy style, just to discover that it was in fact a classic style you were looking for. So, before you make too many changes, start slow and buy yourself a few new posters and see if they represent the style you had in mind!