A nice photo frame improves the impression of any image! Regardless of whether you want to decorate your walls with photos, drawings or quotes, the image will look even better when it is framed.

Do you want a photo frame to hang on the wall, or put on a piece of furniture? Will it have thin or wide edges? Are you looking for a photo frame that should stick out, or blend in?

We have photo frames in many different sizes, colours and styles. Have a look round and see what you like.
Showing 1 - 100 of 10854 products
Showing 1 - 100 of 10854 products
Things to keep in mind when choosing a photo frame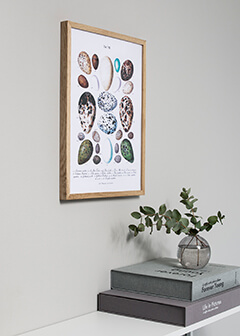 Welcome to our wide range of photo frames, we are glad that you made it here. We think that decorating your home with pretty pictures and other wonderful pieces of decor, is among the most fun there is, and we would like to help and guide you along the way. Choosing a photo frame for your photos or pictures can be as simple as you like — a picture, a frame, done. But if you really want to make the most of your motives, there are a number of things to keep in mind. The picture frame can either enhance, or reduce the impression, and with the help of our tips below, we hope you will find a photo frame that does your pictures justice.
Frame dimensions
When it comes to the size of the frame, you are of course guided by the size of the image you want to frame. We would still like to briefly mention that the dimensions that we have stated on our photo frames, refer to the dimensions that the picture has. If you want to calculate the width of the photo frame itself, take the picture measure and add the width of the rail x 2. Then do the same to calculate the height of the frame.
You might want to pay special attention to the fact that our photo frames come with different widths of the rail: everything from no rail at all, all the way up to 85 mm wide. Choose if you want a super subtle photo frame, or one that gives a more luxurious and slightly inflated impression.
The right colour for your photo frame
Okay, you've checked what size photo frame you want. Now begins the fun part — choosing the colour! Of course, you should go by your own likes and taste, but we still want to share some tips along the way. One thing to keep in mind, is if you want your pictures to blend in or stand out? With sharp colours on your photo frames, you can create a cool contrast to the rest of the interior of the room. If you instead choose a colour that goes more tone in tone with the rest of the room, your pictures will be a much more subtle elements.
Do you know the concept of complementary colours? It's usually said that each colour has an "opposite colour"; or in other words, complementary colours are the two colours that are furthest apart in a colour wheel. The colours that are opposite each other in the circle are each other's complementary colours, and thus the colours that emphasize each other the most. By having a picture frame in a colour that is the complementary colour of the subject, you will highlight the subject, and the eye will be automatically drawn to it. If you instead choose a colour that is closer to the circle, you can tone down the impression.
Wood, composite or something else?
And now we get to the business of material selection… In our range, there are photo frames of several different materials. If you want a lighter frame, we can recommend our composite or aluminium frames. These can be especially suitable for larger images, where you don't want to burden the wall too much. Do you want to create the feeling of a little more luxury and flair, so maybe a photo frame in aluminium fits better? Or why not a stylish wooden photo frame? If you want to frame an image, but want to let it speak for itself, we also have picture frames completely without rails — you then just attach your motif between a back piece and a glass top. Simple and stylish.
With or without passepartout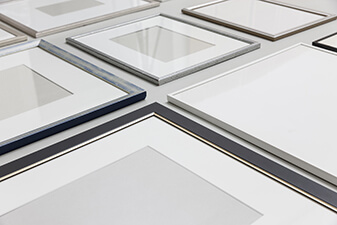 An easy way to further enhance the impression of your photos is to use a passepartout. With the help of a passepartout, you give your photo a beautiful frame and a particularly stylish lift. In addition to highlighting the picture, the passepartout will also enhance the impression of the picture as a whole.
Go ahead and experiment with colours here. Try out what happens if you use a white passepartout in a white photo frame, and see how big the difference is if you change it to a black one!
We have a large selection of passepartouts, so you can pick and choose from all manner of colours and sizes. If you want to use several pictures in one photo frame, we also have passepartouts for up to 16 pictures.
How about a picture wall?
Picture walls have been popular for a few years now, but that doesn't mean that they are becoming obsolete. In fact, different variants of picture walls have existed long before they became fashionable. Just think back to what it looked like on the walls of your grandparents, where wedding pictures were just next to pictures of grandchildren and old holiday memories.
What characterises a picture wall is that you often use photo frames of different sizes and styles. There is no right or wrong here; try it out and see what you think looks good. The variations have hardly any limitations — photo frames in different sizes, colours, rail widths, with or without passepartout. For a more subtle picture wall, use uniform photo frames. To highlight it, dare to go a little crazy and match to your heart's content!
What do you want to show?
The time has past for when the walls were decorated more or less exclusively by either portraits or paintings. With today's large selection of photo frames and pictures, the choices are greater. Frame the children's drawings, or maybe something you've made yourself? Enlarge the holiday pictures, and let them become a beautiful picture with the help of a photo frame. Or choose your favourite quote, something you'd like to greet you every morning when you open your eyes, frame it and hang it over the bed.
Our range also includes ready-made posters, which can be used together with our photo frames. Just like our frames, these are also available in many different sizes and styles.
Difficult to determine placement?
Sometimes it can be difficult to see where a picture fits best, and it can feel like a big decision to screw in that screw into the wall. If this is the case for you, we can recommend a picture shelf! Here you can easily vary which photo frames you put there. Mix photo frames of different sizes and colours, and see what looks nice. If you are not satisfied, just change.
A little bit about glass
Maybe you have noticed, when you have looked around among our photo frames, that they come with different types of glass? We thought here briefly to tell you a little about the different variants.
Some of our photo frames have so-called float glass, which is a smoother glass than "ordinary" glass, with better light properties and also 45% protection against harmful UV light. Then we have plexiglass, which is a form of transparent acrylic plastic that mimics glass. Finally, we offer photo frames with anti-reflective glass. This glass has been treated to reduce reflections, which can cause your picture to "disappear" when illuminated.
Hanging or standing photo frame?
Now we begin to approach the end of all the tips we want share, which we think you should keep in mind when choosing a photo frame, but there is still a small detail left to recommend.
Depending on your picture, you will need a photo frame that can match it. By that we mean that you should make sure that the photo frame you choose can be hung both as a portrait and as a landscape.
Maybe you do not want to hang your picture on the wall at all, but you want to place it in a window, or on a piece of furniture? No problem — many of our photo frames have support legs that make this possible. Just be sure to check this when looking for photo frames. The best thing is of course if the photo frame can both be hung and placed — this way you can reuse it with any image, if the day comes when you get tired of the present one.
Some final words
So there, now we have shared everything we wanted to say on the subject of photo frames! Now that you know a little more about what to keep in mind when looking for the perfect frame for you, just start looking around.
In our range, there are photo frames in about twenty colours, and in all conceivable sizes from 20x30 cm and up to 100x140. So regardless of whether it is an image in A4 format you want to frame, or if it's a giant magnification, we feel confident enough to say that we have a photo frame that will suit you.
Remember to think about what you want to do about passepartouts. If you think that your picture deserves extra framing, invest in a passepartout. Our range includes passepartout in many different colours and sizes.
Our frame workshop
If worse comes to worse and you can't find the perfect photo frame in our range, we have a solution for this as well. We have our own frame workshop! Photo frames are made here, tailored to your wishes. To place your order, start by looking around in our range to see if you can find a photo frame that you like. Then you go into that particular product and enter the dimensions you want. Easy as pie!