Here at BGA, we think nice photo frames are something which improve images, regardless of whether you frame nice posters, or create a picture wall with family pictures. We are therefore proud of our enormous and wide range of picture frames. We have something for all tastes, regardless of whether you like simple picture frames, or one which really stands out. Are the measurements not right? No problem. We produce bespoke picture frames that fit your image.
Showing 1 - 100 of 11084 products
Showing 1 - 100 of 11084 products
Picture Frames for all styles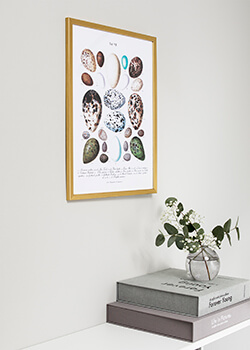 If there is one thing we know inside and out, it is frames! We keep track of contemporary trends, whilst offering a full range of classic and traditional designs. Our goal is to offer affordable, high quality frames, whether they are simple or much more decorative. We have a frame for every taste and we are passionate about adding the finishing touches to our customer's dream decor.
As there are always walls, tables, chests of drawers, window sills and other things to fill with beautiful frames, it's always just as important for us to update our range so that you can fill your home with new picture frames. Maybe it's the plastic frames you like best? We have then! Metal frames? Of course we have that too! We also have picture frames in other materials, it's entirely up to you to choose freely from our excellent lines!
Are you used to having your images without a picture frame? It is, of course, a matter of taste, and images can be lovely without frames. However, we feel strongly that your images are enhanced with one of our picture frames. We have such a large selection that we feel confident that you will all be able to find the perfect picture frame for your favourite image at home.
If you have a smaller picture that you're very fond of, you might have placed it on the refrigerator door or somewhere similar for lack of a suitable picture frame. Of course, that could be pleasant too, but if you buy a picture frame, you'll both protect the image and you'll have more choices as to where to place the work, so think about your options!
The good thing is that there is a suitable photo frame for all pictures. This means that you can always find the perfect frame for your favourite images that you want to frame. Here we don't only sell frames, so you can also, with our help, find an image first and then a suitable picture frame for it. No matter how you look at it, we always have the right frame, so just search through our range of frames and add your favourites to the cart!
Are you looking for new stylish frames? Then you have come to the right place! No matter what type of frame you're looking for, you're guaranteed to find it with us. We have frames in all conceivable sizes, colours, materials and designs. In addition, we manufacture custom-made frames according to your wishes. This way, we make it possible for all our customers to find something that suits their taste.
Good to know about our picture frames
With our extensive range, we have the opportunity to offer our customers a wide variety of picture frames. We have everything from simple and affordable picture frames to really exclusive and hand-made photo frames. Many of our products can be used in both landscape and portrait formats. Most of our frames also have a support leg so that they can be placed on, for example, a shelf and a wall bracket so that they can be hung on the wall. In our range, you'll find everything from affordable picture frames to exclusive ones for all tastes.
If you know what design you want, shopping will be a breeze. If you're unsure, our wide range can feel a little overwhelming. You might consider either contacting our skilled customer service or reading one of our inspiring texts concerning, among other things, matching with other decor. We often try to inspire you as a customer in the product texts, but you'll also find tips and suggestions in our blog. You'll find the blog at the top of the page.
Dimensions of the picture frames
The dimensions specified for the frames indicate how large images can fit in them, i.e. the image dimension. This is also the measure you must fill in when you order a picture frame according to your own measurements. To find out the total size, just add the picture size with the rail width x 2. For example, if you have a picture frame with the picture size 40x60 cm, and the rail width is 1.3 cm, take 40 + 1.3 + 1.3 = 42.6 cm to calculate the width. In the same way, calculate the height of the picture frame.
Type of glass
When you navigate around this page, you can, among other things, search for picture frames by type of glass. The glass you can choose from are called ordinary glass, float glass, plexiglas and anti-reflective glass. Float glass is a smoother glass than the usual variant and has better light properties. Plexiglas is a form of transparent acrylic plastic that mimics glass. Anti-reflective glass has been treated so that the image in your picture frame doesn't disappear behind reflections of room lights or daylight. The latter is very popular with our customers!
Material
What frame material you should choose is of course a matter of taste. We have frames in acrylic, aluminium, wood, glass, plastic, imitation leather, metal and nickel silver. Since acrylic is a material that is flexible to work with, in addition to classic picture frame shapes, you can also find, for example, Christmas baubles with space for a picture, in our range.
The aluminium frames give a stylish impression while not weighing as much while the metal frames weigh more and feel luxurious to hold. Among our glass picture frames, you'll find both beautiful variants that are decorated with glass beads, as well as more stylish ones that consist only of a backboard and a glass top.
The advantage of plastic frames is that you can hang a large frame that is light. If you're looking for a stylish picture frame that stands out from the crowd, you can choose a variant made of artificial leather. For an extra luxurious feeling, we have a large selection of picture frames in sterling silver. The frames are available in a number of different designs that suit a lot of different purposes.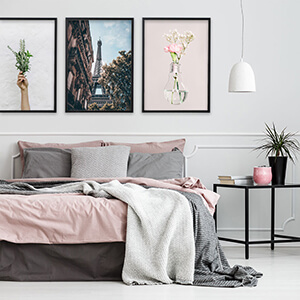 You get a classic photo frame with a genuine feel if you choose a wooden frame available in lots of colours and variants.
Colours
When choosing picture frames, make sure that the picture frame matches the image. A black and white image goes well with most frame colours, while a colourful one requires a little more planning. For example, you can get a lovely impression if you take one of the colours in the image and finish a picture frame in the same shade.
When you have a harmonizing picture, you can start thinking about how to match it into your decor. Against a neutral wall, it's rather easy. Make sure to capture the colour of the picture frame to other pieces of decor such as pillows, candle holders or textiles. If you have a patterned wall, it will look nice with a stylish, solid-coloured picture frame in black, white, gold or silver.
The motifs in the image fit black frames with wide rails perfectly.
Get inspired!
Frames are lovely pieces of decor that quickly add a finishing touch to your home decor. With a handful of stylish picture frames in different sizes, you can create a really cool and personal picture wall with your very best pictures. With us, you'll find a number of affordable variants in stylish models. When you create a picture wall, it's the pictures that should be in focus, and with a beautiful framing, you highlight the je ne sais quoi of the picture.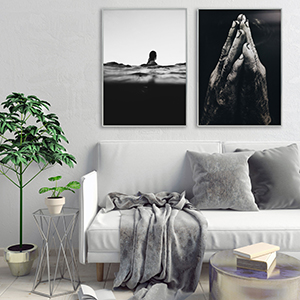 If you want to put your favourite image in a more exclusive frame, it may be enough with a single that gets a special place on the wall. Lonely hanging frames do extra well on a narrow wall or above a piece of furniture. Feel free to match the frame with interior components in the same colour or style!
The middle ground is to create a smaller picture group with 2 or 3 matching picture frames. The picture frames don't have to be of the same colour, but they should preferably be included in the same colour scale. When it comes to pastel coloured picture frames, however, you can in many cases circumvent this rule because different pastel colours often harmonize with each other.
A picture frame does not have to sit on the wall. Large picture frames become exciting design components if you lean them against the wall, while smaller frames with support legs quickly spruce up a desk or chest of drawers.
In the picture we have an exciting group of pictures with 2 images. The neat silver frames fit perfectly with the motifs. Note that the silver has been matched with grey interior components along with the green plants.
For more inspiration on frames, we recommend a visit to our own Magazine. It's full of ideas and tips on how to use your picture frames for pictures in a creative and exciting way.