Pillows
A home full of brightly coloured cushions in different shapes and sizes feels especially warm and cosy. At BGASTORE.IE, you'll find a wide range of trendy Nordic designed cushions perfect for your home. Decorative cushions, cushion covers, cushion inserts and round cushions are just some of the things you can expect to find in our wonderful extensive collection. Welcome to BGASTORE.IE, when you're looking for the perfect cushions for your home!
Showing 1 - 100 of 135 products
Showing 1 - 100 of 135 products
GIVE CUSHIONS A PLACE IN YOUR HOME!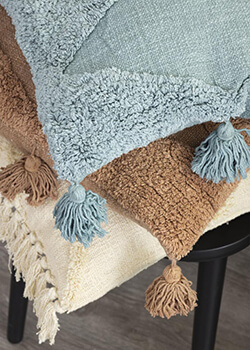 At BGA, we think that cushions are one of the most enjoyable design details in a home. With cushions, you can set the tone of a room and add a personal touch to your decor style. The ability to mix and match different colours and kinds of cushions adds an extra element of fun and there are so many different pillows to choose from. For example, you can mix different shapes to create an interesting and dynamic look. You'll find everything from round cushions to rectangular cushions and even ball cushions. Matching different shaped cushions together is much more fun than just having square ones.
It's also fun to mix different sizes of cushions. When you're making a bed, it can be nice to start with larger cushions at the back and work your way forward with cushions of decreasing sizes. Maybe you could finish with a round pillow at the very front as a finishing touch!
There are also a wide variety of different materials available. There are rustic cushions in linen, elegant cushions in velvet and all kinds of different patterned cushions such as those made with soft textured patterns or created by delicate folds of velvet. The possible variations are endless and that gives huge scope for mixing and matching.
FOR THOSE WHO LOVE STYLISH DECOR
For those of you who like a simplistic classic style, you don't need add too much variation but instead keep it simple and uniform by following a colour scheme with your cushions. You can still mix and match your cushions but in subtle variations of your chosen colour shades. For example, a dark gray cushion matched with a light gray cushion or perhaps a beige one matched with a brown. That way, you get some colour variation but still within your colour scheme. It can also be nice to mix cushions in different materials but the same colour. Perhaps you could mix a stylish, classic cotton cushion with an elegant velvet one with a textured pattern? And do not forget about rustic cushions in linen that work well in modern style homes as well as more bohemian ones. Mixing cushions in different materials and sizes can create a feeling of volume.
CUSHIONS WORK IN SO MANY DIFFERENT PLACES
It's fun to decorate with cushions because you can add them to many places. Cushions are great to have on lots of different pieces of furniture in your home. There are the usual places you'd think to put decorative cushions, such as on your sofa and your bed. Decorate your sofa with nice cushions so you can sink in-between them and get cosy. Add some decorative cushions to your bed on top of a bedspread or throw for an elegant look. And don't forget other seating areas such as for extra comfort in a reading chair or in a child's den in a playroom and if you have a sitting area in the hall. Nice cushions are a design detail that elevates the whole room. An old sad armchair or a simple sofa can immediately get a new look when you add new cushion covers! It's impossible to get enough of cushions and impossible to have too many.
CHANGE YOUR CUSHIONS TO REFLECT TRENDS AND SEASONS
It's also great that cushions, and especially cushion covers, are so easy to replace and adapt to changing trends and seasons. It's so simple to change your cushion covers and without much expense. Perhaps you could have some neutral cushions on the sofa that are always there but also buy some colourful ones that you alternate to liven things up now and then. Maybe you have beige cushions on the sofa and you add some colour with green ones in the autumn and then change to a pair of white cushions for the spring?
HIGHLIGHT COLOURS FROM DIFFERENT INTERIOR DESIGN DETAILS
When you decorate a room, it's fun to pick out the same colours from different design details and with cushions that's very easy. You can select colours from the paint or wallpaper, from blankets, or maybe the curtains and chose your cushions based on that. If you want to create colour contrasts instead, that's also easy with cushions. In our homes, we have the opportunity to express who we are. Maybe you're a calm person who loves earthy organic design or are you lively and colourful in your personality and your decor style? Bring the patterns, colours and materials you like into your interior design style and decorate your home based on what suits you.
IMPORTANT POINTS WITH SUCH A WIDE RANGE OF CUSHIONS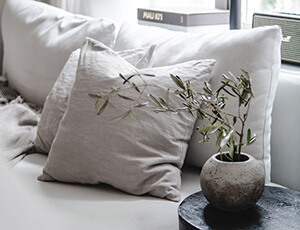 We offer a wide range of cushions which naturally means there are lots of different sizes and types. It's important to read the product description so you know exactly what type of cushion you're buying. In our range you'll find, for example, lots of cushion covers and if you buy a lovely decorative cover, you'll probably want a cushion insert to put in it. Of course, you'll also find those in our range. We have different cushion inserts in a variety of sizes with different types of fillings so that you can find what suits you best. And don't forget to check what measurements you need. If you like a firm cushion, you can choose an inner cushion that measures slightly larger than the cushion cover. So if you've chosen a cushion cover that measures 45x45 cm, you can select a cushion insert at 50x50 cm. No matter which cushion you choose, remember to fluff it up regularly to ensure it stays lovely and full.
HOW DO YOU WASH CUSHIONS?
In order to keep your cushions nice for as long as possible, it's important to keep your cushions fresh. Sometimes accidents happen and your cushion might get a small stain on it from spilt food or drink. It doesn't have to mean that your cushion is ruined. It is quite possible that you can easily wash your cushion. Cushion covers can usually be removed and machine washed. Always follow the washing instructions for your cushion and check what applies to the different materials so that your cushion stays nice for a very long time.