Practical storage solutions are always a good idea, especially in the bathroom, where we need our favourite products to be easily accessible. Maybe you're looking for a brass wall-mounted shower shelf for your bathroom, or a black basket shelf? Browse and choose from among our range of practical and stylish bathroom shelves!
BATHROOM SHELVES - SMART STORAGE SOLUTIONS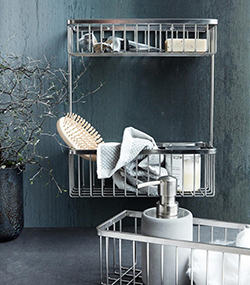 Smart storage options are always important, and especially in the bathroom, it's handy to have your things stored in an easy, practical way. We spend both quiet moments and stressful mornings in the bathroom, and in both cases, it's nice to have furnishings that allow you to find what you're looking for with ease. Bathroom cabinets are a practical storage solution and hold a lot, but bathroom shelves are an excellent complement that are even more handy.
A bathroom shelf allows you to store your favourite products so that they're easily visible and accessible, you don't have to spend a long time looking for them, and you enjoy a smoother morning routine! Also, bathroom shelves can be not only practical but very beautiful, too.
A BATHROOM SHELF IS GREAT FOR LOTS OF THINGS
A bathroom shelf can serve a number of different functions in the bathroom. You can use it to keep all your hygiene products, make-up and other things easily accessible. You can also hang a shower shelf in the shower area for storing soap and shampoo, or you can use a bathroom shelf to decorate the room with a green plant and other accessories, for example. A shelf makes it easy to include nicer decorative pieces in your bathroom. A scented candle, a few rolled-up little towels or lovely scent sticks all look beautiful on a nice bathroom shelf. Storage solutions in the bathroom should nice and stable so that the decorative pieces you use can speak for themselves. And choosing between bathroom shelves in different designs is fun. Maybe a black industrial bathroom shelf works best in your bathroom, or an elegant brass shower shelf in brass? It doesn't take much to get a truly beautiful bathroom. Little details go a long way, and can really elevate your bathroom.
BATHROOM SHELVES IN THE SHOWER
Bathroom shelves can be set up in lots of different places in the room, and a popular place is usually in the shower area, to avoid having to line all the shampoo bottles and bars of soap on the edge of the bathtub or the floor. All the different products can quickly become too much, especially if there are several of you in the household. In that case, it's convenient to use a bathroom shelf to sort out different bits and pieces. You can even go for a shower shelf with several compartments so each family member has their own. Especially when you're in the shower, it's nice to be able to find what you need with ease by storing it on a hanging shower shelf.
If you're going to put up a shelf in the shower, it's important to choose a shelf with a smart design and that's moisture resistant. Basket shelves are practical in the shower because the basket design means no water collects in the bottom of the shelves.
ENJOY EXTRA STORAGE IN YOUR BATHROOM
Bathroom shelves are a must in all bathrooms, but they're extra practical in small bathrooms. In smaller rooms, we often need to maximise the available surfaces in order to get the most out of the space. A really easy way of doing this is to put up shelves on the walls to create more storage options. With wall shelves, you get both more free space on the floor and beautiful details on your walls. Smaller shelves are even more practical, as you can put them up on surfaces that wouldn't otherwise get used.
Before you buy a bathroom shelf, it's important to check how big a shelf you have space for. The easiest way is to first select the place in the bathroom you want the shelf to go in and measure it. If you have a lot of wall space, you might want to match several different shelves together. It can be a good idea to buy lots of different shower shelves and put them at different heights so the children in the family can also reach them. By putting bathroom shelves at different heights, you can also create fun patterns and a nice design. It might also be the case that you need a shelf with lots of different levels but there's no shelf that fits. In that case, you can mix and match several smaller shelves. For example, it can look really good if you put four shelves in a vertical line in the bathroom.
DIFFERENT BATHROOM SHELVES FOR ALL TASTES
In our range, you'll find lots of different bathroom shelves of high quality. Regardless of what you're looking for in a shelf, you can find one that suits you. We offer shower shelves in a range of different colours and sizes, and they're all made of durable stainless steel, which is great in wet rooms. Maybe you want a larger bathroom shelf for your wall, or just a small bathroom shelf to complement other storage solutions. Welcome to our range of bathroom shelves that make everyday life easier for both kids and adults!