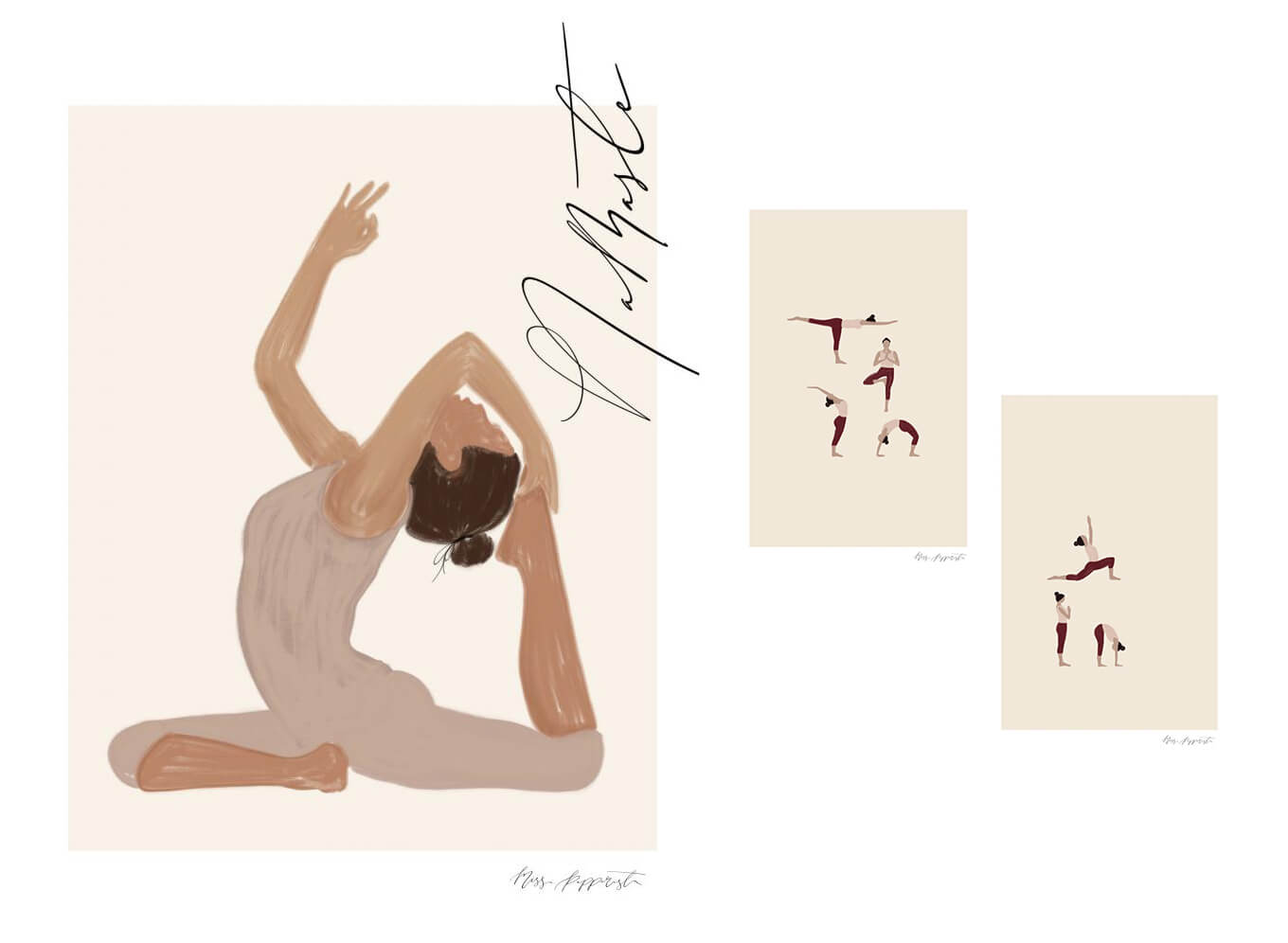 Posters with yoga and other tranquil subjects
Namaste. Sometimes we all need a little tranquillity in our lives. With the help of calming decor, we can wind down and feel more at harmony in our homes. Below, you can find a little inspiration for posters and prints with relaxed, tranquil subjects. Posters that can remind you that sometimes you just need to pause – and take a deep breath.
Yoga Posters
Even if you're not often found in the yoga studio, most of us can still appreciate these tranquil and extremely beautiful images, created by Jenny Skantz – Miss Papperista. The graphical images show a woman in different yoga positions, and are produced in soft and calm colours.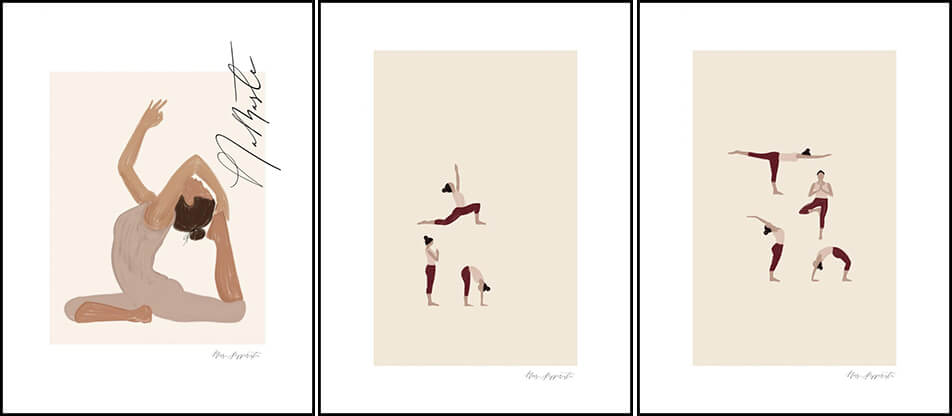 From left: 1. Namaste I // 2. Namaste II // 3. Namaste III
If you're really looking to become a yogi, maybe this poster can be of assistance? A poster which illustrates some fifty yin-yoga stretching positions. The poster has a simple and stylish design that suits all homes and decor styles – whether alone on the wall or as a part of a picture wall.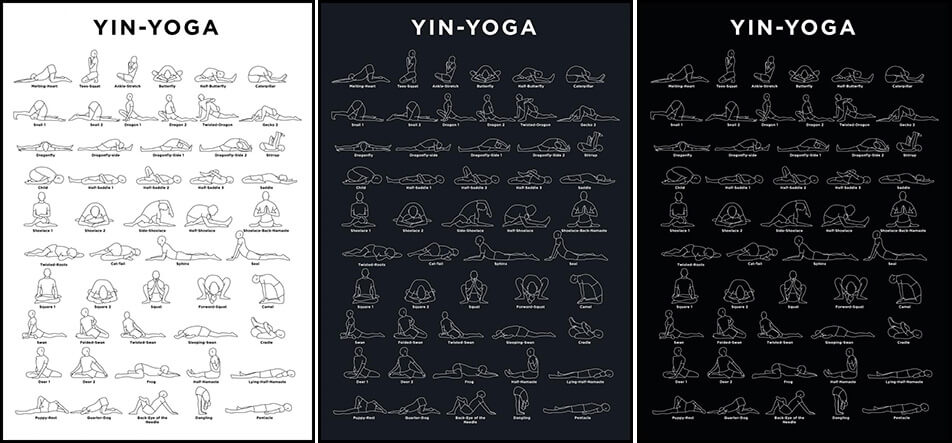 From left: 1. Yoga - White // 2. Yoga - Navy // 3. Yoga - B&W
Practice yoga sequences with a yoga poster
Remembering a yoga sequence can be difficult. That's why these stylish posters with entire yoga sequences are perfect to have in front of you in the room in which you do your home yoga. In these sequences, you can clearly see what the yoga pose should look like, as well as instructions on the time you should hold the pose in minutes.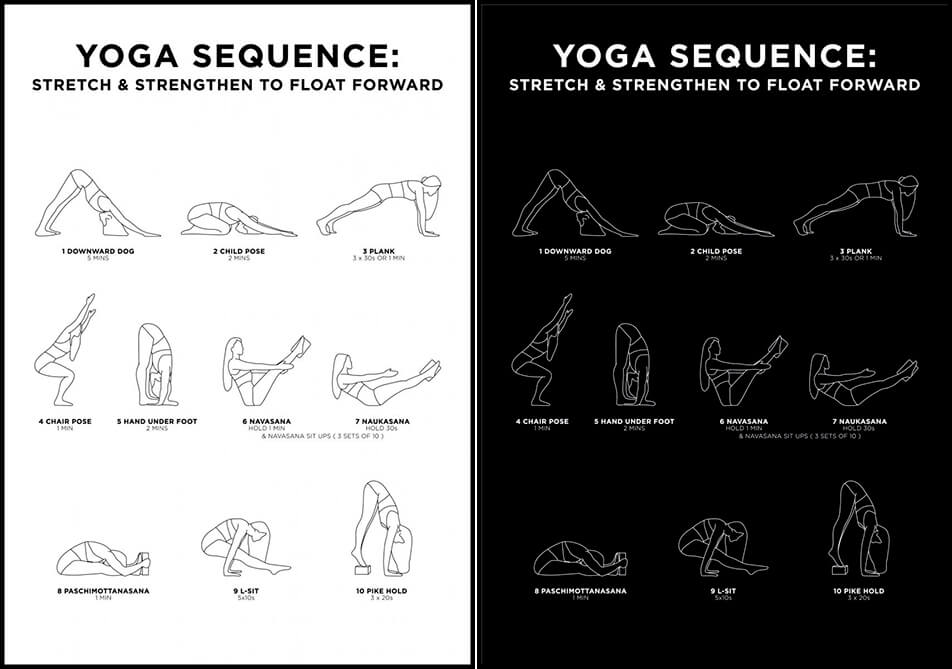 From left: 1. Yoga Sequence – Stretch & Strengthen To Float Forward – White Poster // 2. Yoga Sequence – Stretch & Strengthen To Float Forward – Black Poster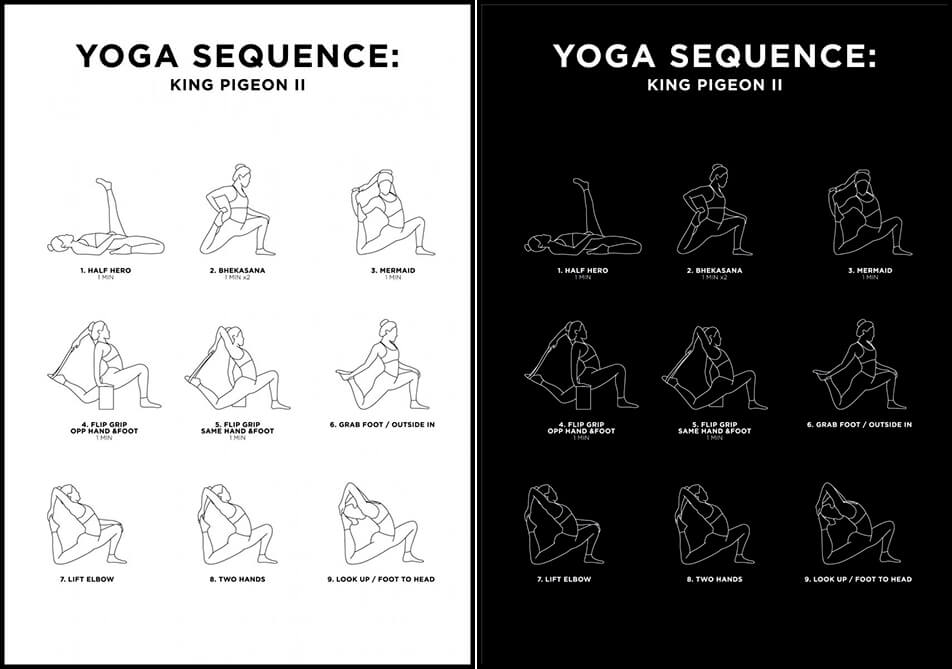 From left: 1. King Pigeon II - White Poster // 2. King Pigeon II - Black Poster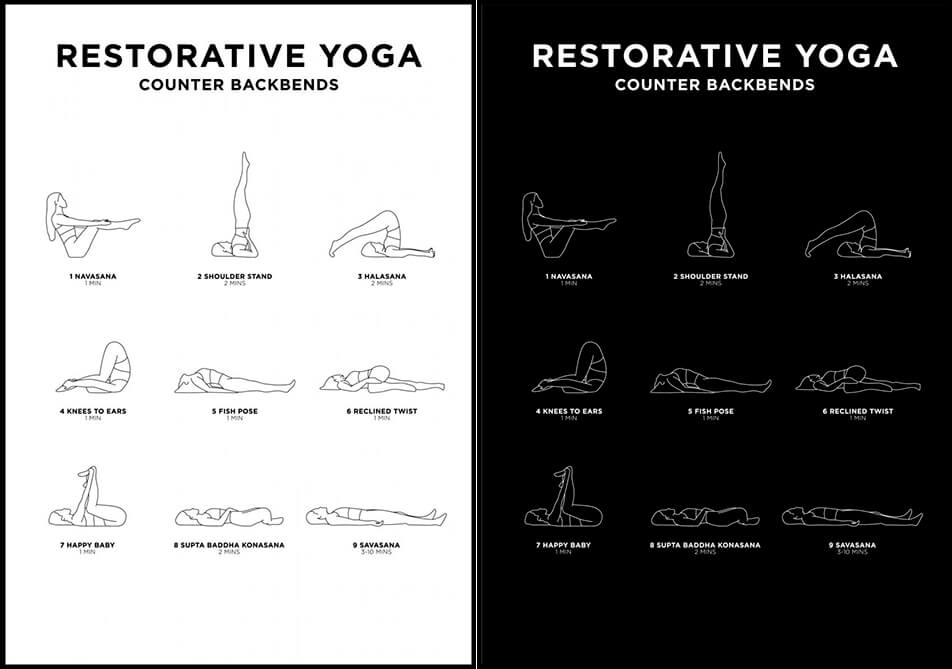 From left: 1. Restorative Yoga - White Poster // 2. Restorative Yoga - Black Poster

There's even a guide for that oh-so-important warm-up!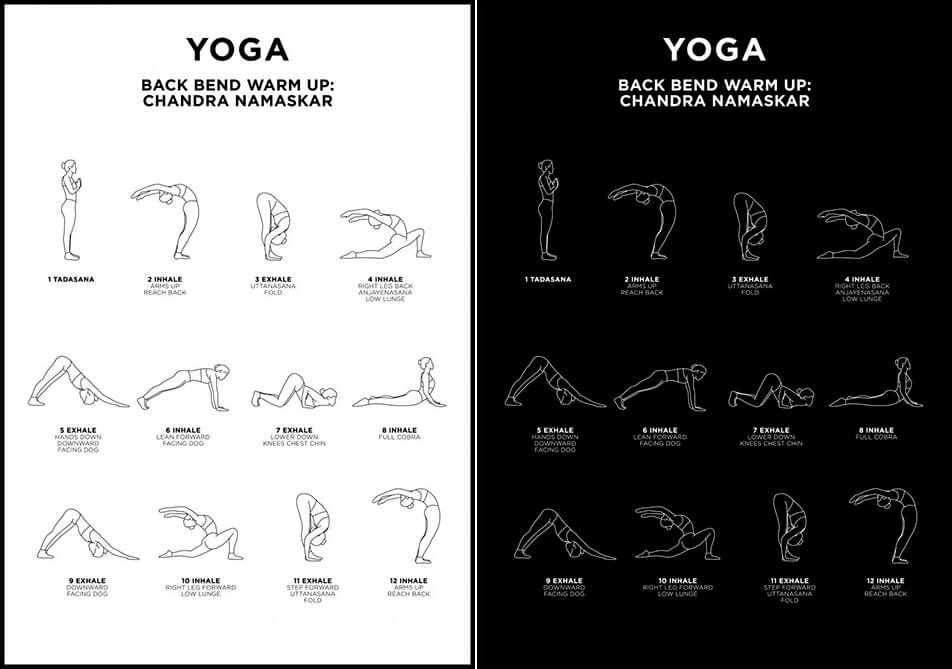 From left: 1. Back Bend - Warm Up - White Poster // 2. Back Bend - Warm Up - Black Poster

All these yoga posters are printed in our own print studio on premium paper that is FSC-certified and long-lasting. The sturdy thickness and the matt surface give these posters a feeling of quality, and result in a handsome print without reflections.
Meditation poster – breathe in, breathe out
Sitting in the lotus position and just focusing on your breathing sounds easy, but it can be extremely hard for many. But seeing somebody doing just that may create a feeling of calm. This poster shows a photo of a man meditating by what appears to be a seashore. The image has a somewhat mystical quality, but above all: a deep feeling of calm.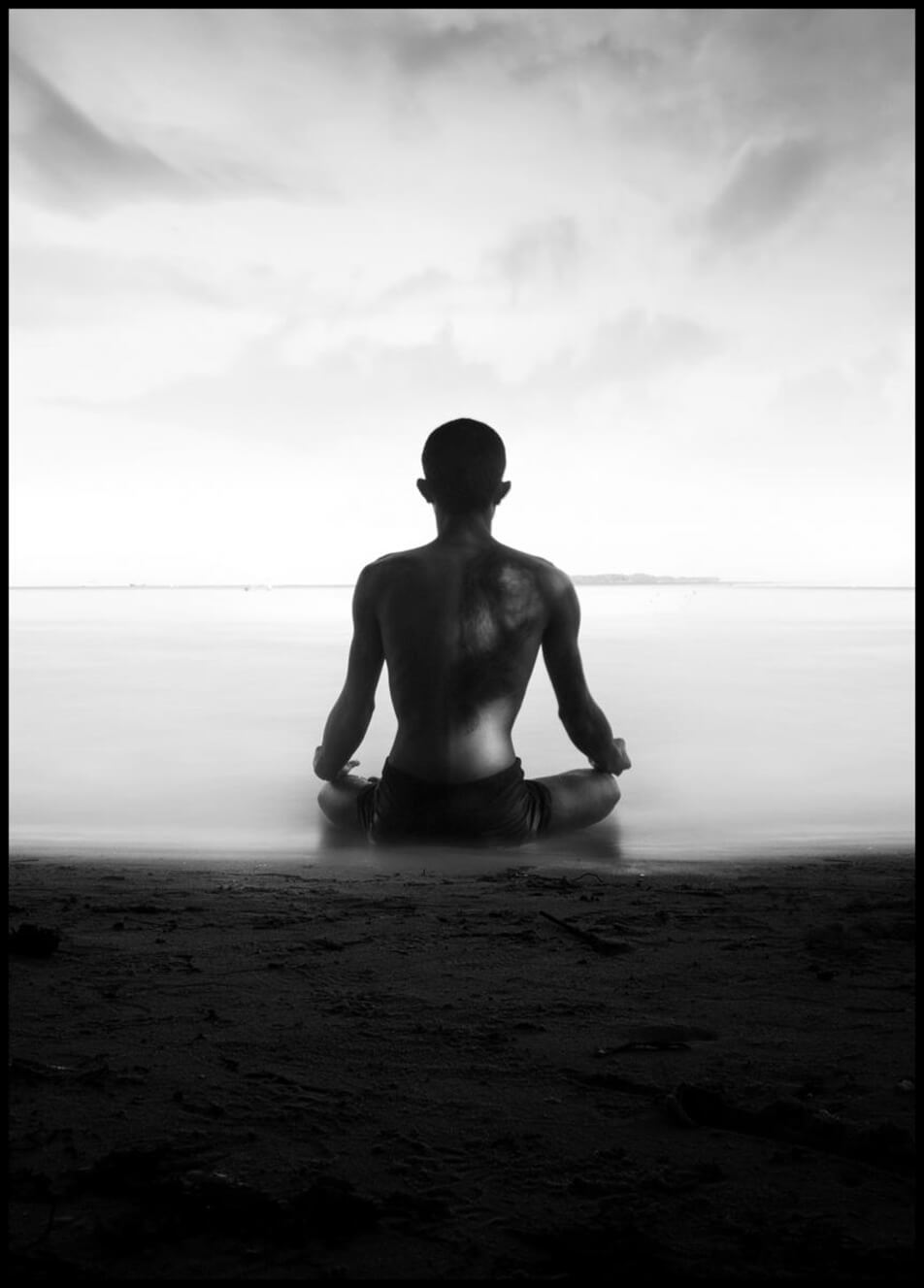 In the picture: Meditasi
Posters with calm natural subjects
The fact that people become calmer and more harmonious out in nature is perhaps nothing new. But have you considered bringing that exact feeling into your home? Maybe with a poster with, for example, a deep, rainy forest, a lone tree in the mist, or a tranquil shore with small waves washing in.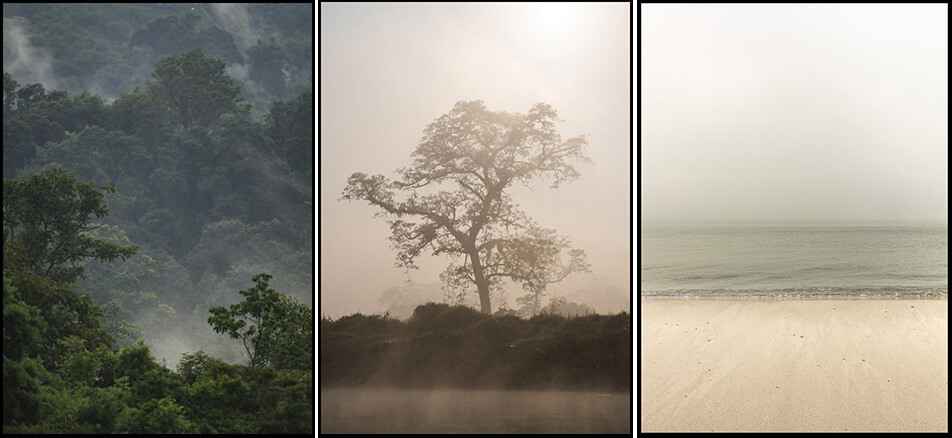 From left: 1. Rainforest // 2. Misty Tree // 3. Photo Factory - Læsø
Here you can find our whole range of posters with natural subjects.
Graphical posters with calm tones
Graphical posters with soft forms and calm tones are also images that can help you to create a tranquil home environment. Posters which aren't shouting for attention, but which captivate the viewer anyway.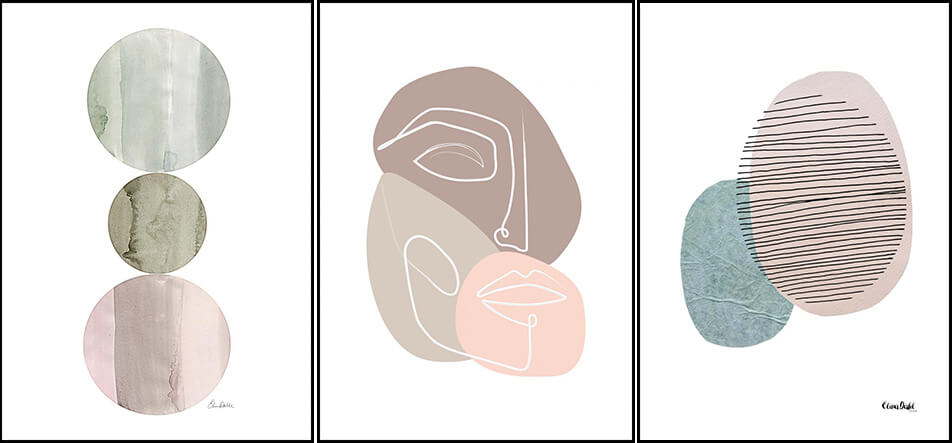 From left: 1. Circles // 2. BLUSH // 3. Childhood